Step into Bristol's vibrant nightlife and immerse yourself in the eclectic mix of clubs and bars that this bustling city has to offer. From lively jazz venues to classic British pubs, Bristol has something for every nightlife enthusiast. Here are 15 of the best bars and clubs that you need to visit while in Bristol.
This article dives deep into the charm of Bristol's night scene, uncovering the distinct personalities of each club and bar, their unique offerings, and why they are considered the crème de la crème. Sit back and take a virtual tour of Bristol's most remarkable nightspots.
1. The Milk Thistle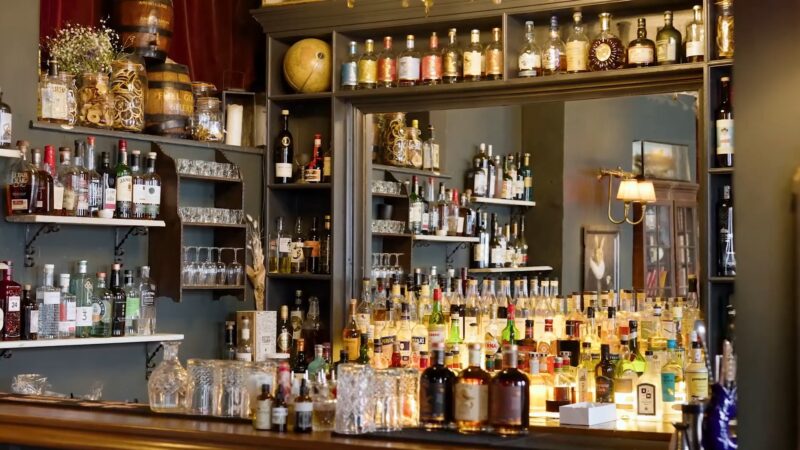 Arguably one of Bristol's hidden gems, the Milk Thistle is a delightful speakeasy-style bar, well-known for its vintage decor and stellar cocktail menu. It's housed in a historic building that oozes character, with the interior channeling an air of old-world charm and sophistication.
Tucked away in Quay Head House, this exclusive venue has four floors of indulgence, including a cocktail bar, lounge areas, and private function rooms. Their cocktails are legendary and always prepared with creativity and flair, providing an immersive and intoxicating experience for the senses.
2. Thekla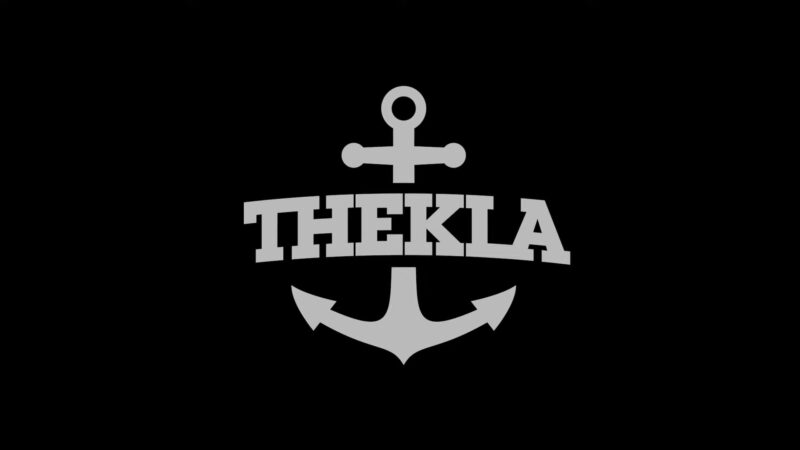 How many clubs do you know that are on a boat? Thekla is a unique nightclub and live music venue located on a former cargo ship moored in Bristol's Mud Dock. Since the 1980s, Thekla has been a defining point in Bristol's music scene, featuring performances from a plethora of emerging and established artists.
Beyond the novelty of its nautical setting, Thekla's musical range is truly diverse, offering everything from rock, indie, and electro to pop, hip-hop, and reggae. It's a must-visit for music lovers and anyone looking for an extraordinary clubbing experience.
3. Hyde & Co.
Hyde & Co. is another speakeasy-style bar that transports you back to the Prohibition era with its clandestine atmosphere, leather-bound menus, and world-class cocktails. As you push through the unassuming entrance, you're greeted with dimly lit, intimate surroundings that are perfect for a relaxed evening out.
The staff at Hyde & Co. are true cocktail artisans, creating extraordinary drinks that look as good as they taste. Their menu changes seasonally, ensuring fresh and inventive options throughout the year. For an elevated drinking experience, make sure you don't miss this place.
4. The Canteen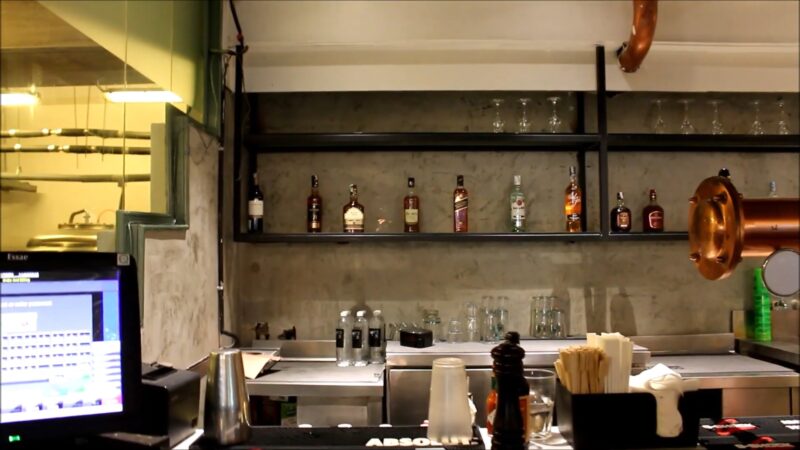 Located in the heart of Stokes Croft, The Canteen is a lively bar, restaurant, and live music venue all rolled into one. It's a community hub that's as diverse as Bristol itself, showcasing local talents and serving up tasty, ethically sourced food and drinks.
The venue boasts a free live music performance every night, spanning genres such as jazz, folk, blues, and world music. With its great beer selection, warm atmosphere, and top-quality music, The Canteen is a true testament to Bristol's thriving cultural scene.
5. Blue Mountain Club
In the realm of electronic dance music, the Blue Mountain Club is a significant player. Known for its fantastic sound system and welcoming atmosphere, this club has been a cornerstone of Bristol's nightlife for many years, playing everything from techno and drum 'n' bass to dubstep and jungle.
Blue Mountain Club is also appreciated for its excellent roster of local and international DJs who never fail to create an electric party atmosphere. Whether you're a rave enthusiast or new to the EDM scene, this club promises a memorable night of dance and music.
6. The Apple
For a different pace, head to The Apple, a unique cider bar located on a converted Dutch barge. They offer an impressive range of ciders and perries, with over forty options, showcasing the best of local producers as well as international gems.
While you're sipping on your favorite cider, enjoy the scenic views of Bristol's harborside from the boat's deck. If you're feeling peckish, their legendary cheese boards are a must-try. With its relaxed ambiance and extraordinary cider selection, The Apple is a must-visit for cider aficionados and casual drinkers alike.
7. Cosies
Cosies is a Bristol institution. This wine bar and music venue is renowned for its strong community vibe, exceptional wine selection, and its vibrant mix of music genres, from reggae and soul to techno and jungle.
Cosies often host live DJ sets and have an in-house sound system that adds to the overall acoustic experience. Whether you're in for a glass of wine, a bite from their versatile food menu, or a night of eclectic music, Cosies does not disappoint.
8. The Old Duke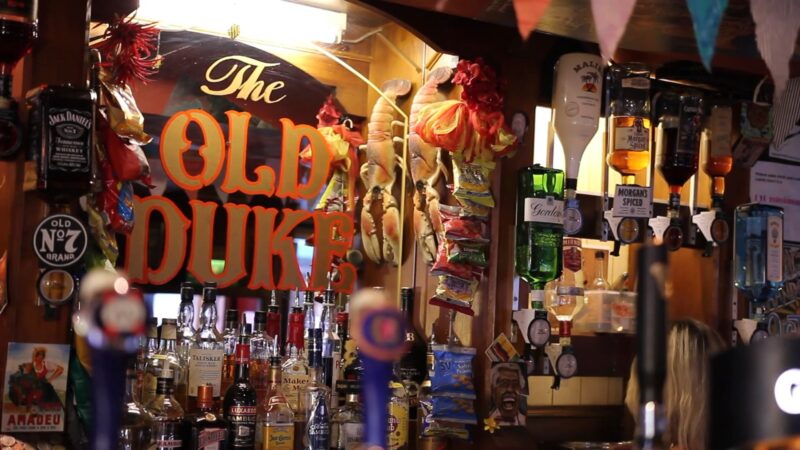 Named after the jazz musician Duke Ellington, The Old Duke is a renowned jazz and blues venue. Situated in the heart of King Street, it has been keeping the music tradition alive since the 1960s with free live music seven nights a week.
The atmosphere inside is always buzzing, filled with music lovers, locals, and tourists alike. The Old Duke, with its authentic, unpretentious feel, great beers, and exceptional music, stands as a testament to Bristol's vibrant music scene.
9. The Love Inn
The Love Inn on Stokes Croft is a modern, trendy spot that functions as a café during the day and morphs into a lively bar as night falls. The place has a reputation for being a melting pot of Bristol's music scene, hosting DJ nights spanning diverse genres.
Behind the bar, The Love Inn offers an extensive selection of cocktails, wines, and craft beers. The music, the drinks, and the consistently upbeat atmosphere make this bar a favorite among Bristolians and visitors alike.
10. Llandoger Trow
Llandoger Trow is a historic pub located on King Street. It's an iconic part of Bristol, with a rich history dating back to 1664. With its distinctive façade and the legend that it inspired Robert Louis Stevenson's 'Treasure Island,' this pub oozes charm and character.
Offering a wide range of ales and hearty traditional British food, Llandoger Trow is perfect for those seeking an authentic British pub experience. Its historical significance, along with the inviting ambiance, makes it a must-visit spot in Bristol.
11. The Mothers' Ruin
Nestled in the heart of St Nicholas Market, The Mothers' Ruin is a lively bar known for its extensive gin and cider selection. Its laid-back, friendly atmosphere makes it a popular choice among locals and tourists alike.
Aside from its drinks, The Mothers' Ruin is also known for hosting a range of music nights featuring everything from punk and metal to indie and pop. With a drink in hand and good music in the air, this bar is sure to provide an enjoyable evening.
12. The Golden Lion
In Gloucester Road lies The Golden Lion, a pub famed for its live music, featuring a variety of genres from funk, soul, and blues, to rock, reggae, and ska. The vibrant music, coupled with a welcoming atmosphere and quality drinks, has given The Golden Lion a loyal following.
With regular live music events and an extensive menu of ales and ciders, The Golden Lion stands as an emblem of Bristol's diverse and lively music scene. It's the perfect place to unwind with a pint and great music.
13. Basement 45
Basement 45 is a nightclub located in the heart of Bristol city center, offering a range of music from house, techno, and drum 'n' bass to R&B and hip-hop. Its underground vibe, excellent sound system, and dynamic lighting make for an engaging clubbing experience.
This subterranean venue has three separate rooms, each with its own bar and DJ booth, allowing it to host a variety of events simultaneously. The pulsating music and energized atmosphere make Basement 45 a favorite amongst party-goers and music lovers alike.
14. The Hatchet Inn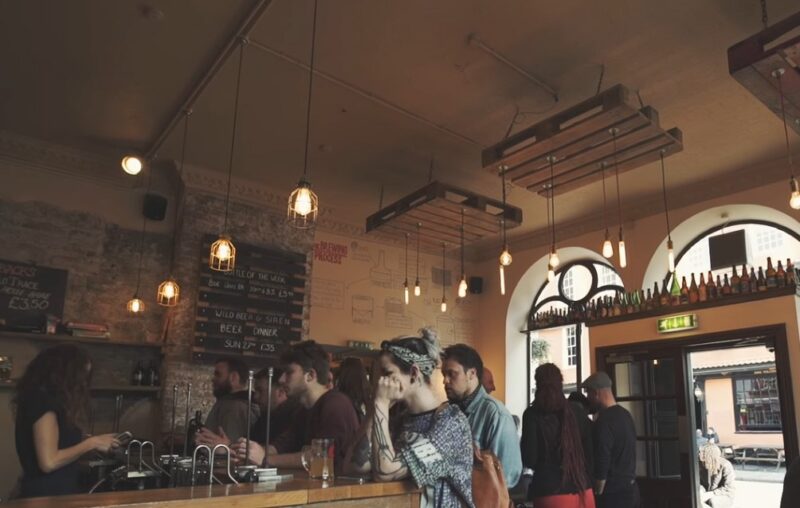 Established in 1606, The Hatchet Inn is the oldest pub in Bristol. This historic venue serves a good variety of local ales and ciders, and its interior, full of old-world charm, tells stories of the city's rich history.
Regular live music events, mainly rock and metal, add to the vibrant energy of the pub. The Hatchet Inn, with its perfect blend of history, quality drinks, and live music, offers a truly unique and enjoyable experience.
15. The Doghouse
Last but not least, The Doghouse deserves a mention. This late-night bar is known for its great music and dance floor, where patrons can dance to the tunes of swing, jazz, blues, and soul.
Besides, The Doghouse offers an extensive cocktail menu, as well as a variety of other spirits, beers, and wines. Whether you're looking to dance the night away or relax with a drink in a lively atmosphere, The Doghouse is an excellent choice.
Closing Thoughts
Each of these venues offers a unique slice of Bristol's vibrant nightlife. Whether you're a cocktail connoisseur, music lover, or history buff, there's something in this city for everyone. So get ready to step out and experience the best of what Bristol's clubs and bars have to offer!